Pipedrive vs Trello: Pros and Cons Comparison
Trello
·
1/3/2023
·
6 min. read
---
In the age of technology, it is nearly impossible to stay productive and meet the constantly increasing KPI expectations without using up-to-date electronic management software tools. Whether it is e-commerce, sales, event, or project management you are engaged in as a specialist, you will most definitely find that one of these tools can significantly improve your professional experience and work environment.
If you are actively looking into the management apps and still have no idea where to start, we suggest you take a look at this Pipedrive vs Trello comparison to get a general idea about two of the most popular software tools out there.
What is Pipedrive?
Pipedrive is a cloud-based software tool designed specifically for customer relationship management (CRM). Mostly suitable for small to medium-sized businesses, the tool will allow you to create a clear sales pipeline and track your progress as you go. Pipedrive is a helpful solution for those who need to visualize the sales processes within the company and improve the customer management process.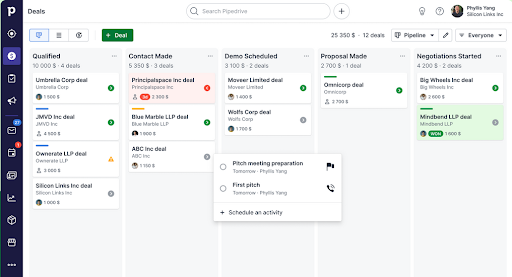 Pipedrive interface
Pros and cons
Amongst its biggest advantages, users typically point out the simplicity and intuitiveness of the Pipedrive user interface. Based on a drag-and-drop principle, the dashboard is entirely customizable to fit one's personal needs and preferences to structurize the sales process.
Another feature that the developers are also particularly proud of is Pipedrive's visual approach to sales pipeline analytics. This is what seems to be one of the major perks of using this CRM tool because it allows sales managers to track leads all in one place through the sales funnel and provides smoother follow-up and prioritization. Thus, the tool has proven to help specialists greatly with the internal communication they are experiencing in the workplace.
Yet another advantage of Pipeline is its process automation and email connectivity. This would effectively mean that you do not have to send out updates on sales progress to clients manually. All you need to do when using Pipedrive is to synchronize the client emails to the relevant thread, and it will send the updates automatically once the stage of the process has changed.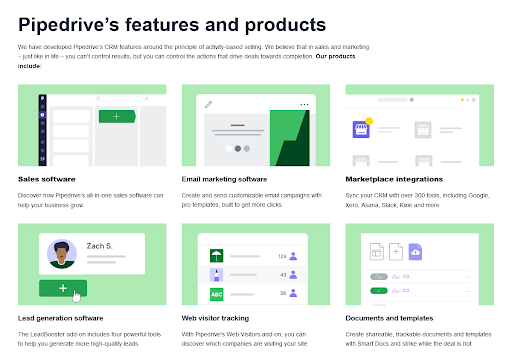 All Pipedrive's products
Now, let us talk briefly about the cons of Pipedrive. First of all, it may take some time to get used to the instrument and learn to implement its features to their full potential. If you are a newbie, it might seem a bit complex at first glance. However, the inbuilt Pipedrive assistant will help you get through the learning process quickly.
This particular CRM tool is more suitable for small to medium enterprises rather than large ones. Some users admitted that it gets pretty cumbersome when one starts uploading more and more leads onto the dashboard, so it becomes difficult to navigate the processes. Also, with more loads of information, the app seems to lag a little and work at a slower pace.
Along with that, there were minor complaints about the lack of features available for lower-tier subscription plans, which made people opt for cheaper analogs.
To sum it all up and make it a bit easier for you to compare Pipedrive vs Trello, keep in mind these pros and cons of the software:
Pros:
Intuitive drag-and-drop interface.
Fully customizable dashboard.
A visual approach to sales analysis.
All manager sales assets in one place.
Automation of routine processes and email connection.
Smoother follow-up on leads and prioritization.
Cons:
Takes a learning curve to get used to.
The dashboard gets cumbersome when uploading too many leads.
Lack of features in lower-tier plans.
No capacity to leave video reviews.
Limited integration with third-party applications.
Can only be used online within a web browser.
What is Trello?
Unlike Pipedrive, Trello has a slightly different objective. It is a web-based project management tool that helps users to organize their processes properly, split the responsibilities between members of the team more effectively, and track the progress on each stage of project development.
With Trello, it is easier to meet deadlines and streamline important details or steps. Thus, if you are looking for a handy organizing tool, it might as well be your choice.
Pros and cons
When managing a project, it might be overwhelming at times to organize the work of big teams and meet all the deadlines. It is essential to optimize the ongoing processes without leading them to burnout. The biggest benefit of Trello is that it can serve as a highly functional, automized, and visualized to-do list. You can create the task cards, modify and alter them as you go, and set a clock on each task to stay on a schedule.
Another major advantage that Trello has over its closest competitors is its automation feature. It allows users to create customized scheduled commands and due-date commands for each task card or team member, thus helping them to set the workflow to run as a clock and avoid mistakes. With this feature, one can also create checklists to keep tabs on the progress and stay on track.
Effective project management means that nothing is left unsupervised and every single detail is taken into account. This is where Trello has yet another benefit to offer, and it is its color-coding opportunity. You can create your own labeling system to keep track of things. Moreover, you can set the card-aging function that will help you see which tasks have not been visited for a long time. The old cards will look more and more faded when untouched for prolonged periods, thus preventing important tasks from getting lost in the shuffle. You can also archive old cards and bring them back to the dashboard or renew old tasks if and when needed.
Now, let us proceed to the cons of using this project management solution. When there is too much information, it may cause tasks to pile up and lag. That is almost inevitable with pretty much any app. Besides that, users outline the lack of a feature to track task dependencies or to leave overall status reports for projects.
It sometimes happens that the tools created to simplify your life cause you extra confusion and require some time and skill to get the hang of it. Some users pointed out that the smart feature is a bit difficult to use for those who are not familiar with the basics of coding.
You will probably find it a bit disappointing that Trello does not provide a Gantt feature, which means there is no way to visualize a clear project timeline. Although, this problem may be overcome with an app extension.
Thus, let us add up the overall pros and cons of using Trello:
Pros:
User-friendly interface.
Effective project management.
Ability to manage several boards at the same time.
Push notifications on task updates.
Smart features to automate commands and checklists.
Backup storage for old tasks.
Availability of basic features even in a free plan.
Cons:
Too many task cards cause lagging and pileup.
Difficulty understanding command automation bots.
No inbuilt way of tracking task dependencies.
A limited number of boards depending on a chosen plan.
Lack of the overall report status template.
Lack of a Gantt chart feature.
The main differences between Pipedrive and Trello
As we have mentioned before, these software tools were created with different objectives in mind. So, let us now go a bit more in-depth and see what sets of features an average user can get with a basic subscription profile.
Primary function
The primary function of Pipeline is CRM, therefore this software solution will help you create and follow leads and, eventually, close more deals. Pipedrive provides tools to gather and store data, make sales reports and updates, automations and integrations with its key tool — sales pipeline dashboards.
Trello is a project management software solution, so its primary objective is to help you put together a detailed project execution plan and follow it thoroughly from beginning to end. It supplies users with a calendar, task cards, progress report web forms, and routine task automation to meet deadlines.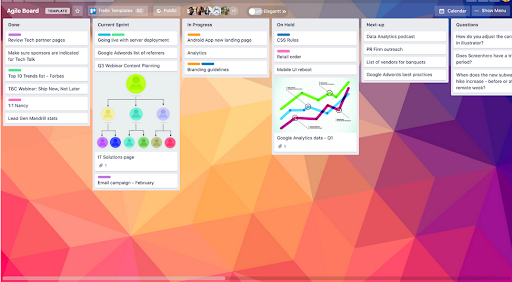 An example of Trello board
Automations
Both platforms use automations to improve users' working experience and overall business efficiency, but, again, these functions serve different purposes. Let us take a closer look at what would be at your disposal with either one of them.
Pipedrive's automation function is based on a trigger-and-action principle. The user may set a condition and an action it will be automatically followed by when set off. This feature is commonly known in coding as an 'if-then scenario'. So, for example, when you set the lead conversion to a contact, it would automatically clear all members and processes.
Trello has a unique automation feature, too, and it is called Butler. This smart feature allows users to set an algorithm and atomize a number of commands so that they do not have to drag their task cards around the dashboard all the time. Again, it might require some skill, but, eventually, it helps to eliminate a lot of unnecessary action.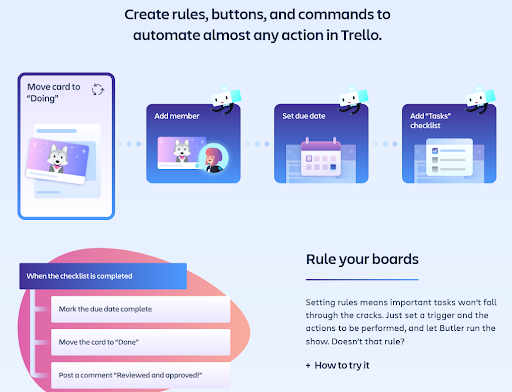 Trello's automation — Butler
Integrations
You can sync Pipedrive to over 300 additional tools and apps, including HubSpot, Zapier, Slack, Google Meet and Google Analytics, Outfunnel, Xero, DocuSign, Zoho, Asana, and ActiveCampaign.
Trello, in its turn, also offers its users useful integrations, like Microsoft Teams, Gmail, Google Drive, Asana, Wrike, GitHub, Slack, Slab, Jira, Evernote, Mailchimp, Azure DevOps, Taco, and Agile.
Pipedrive and Trello can be integrated, too. In general, the former solution has more integrations available than the latter one.
CRM features
Only one of the two platforms under review has proper CRM features based on its primary function, and it is Pipedrive. The cards you create within the platform contain all the necessary customer and sales data, using which you can build sales analytics and make forecasts in real time.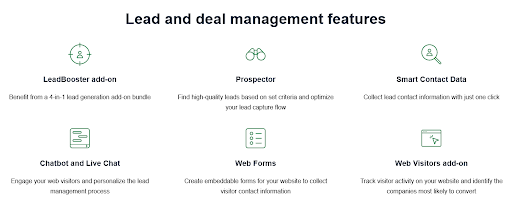 Pipedrive's features to manage leads and deals
Technically, Trello can also function as a CRM, but it is simply not built for that, as its primary function remains as a project management tool.
Task management and collaboration
Both Trello and Pipedrive imply big teams collaborating on tasks, be it a sales pipeline or a project. They use card systems for task management. However, there are some nuances to them.
Pipedrive uses cards to structure and prioritize leads based on their potential. The cards show the leads who are hot, pending, won, or lost in the current sales funnel. The number of deals won would be the most tangible result when assessing sales performance.
Trello also operates with cards, but those are to be considered specific tasks assigned to a team member (or a group of members). The card usually contains goals, directions, and deadlines. So, there are also specific criteria you have to meet when assessing the task or project performance.
Mobile app
Both Trello and Pipedrive have mobile apps and various app extensions you can install to stay in touch with your teammates and check the sales or task progress even on the go. Both are available for iOS and Android. Trello has also launched a separate desktop app, while Pipedrive has only a mobile version.
The minor difference here is the browser compatibility. While Trello claims to be compatible with every single browser out there, Pipedrive seems to be most compatible with Google Chrome and Edge.
Views and dashboards
As each of these products has its niche, they tend to organize the user's working space differently. Pipedrive is all about tracking leads and closing sales deals, so it offers contact timelines, insight reports, and interaction history for these specific purposes.
The unique dashboard views that you will get with Pipedrive are the reports types:
Revenue forecast.
Custom fields.
Trello, on the other hand, is more focused on building a relatable calendar dashboard that includes start and due dates for activities and various specifications required to be fulfilled to consider a task completed. The task cards form a map to show which projects are finished.
Trello offers some specific views that can be adjusted to the project's needs:
Table.
Dashboard.
Timeline.
Pricing details
Each of the solutions has 4 business plans to choose from. Pipedrive starts with an Essential plan at 14.90 Euro. Its most expensive pricing plan is Enterprise at 99 Euro. Pipedrive has a free trial period of 14 days.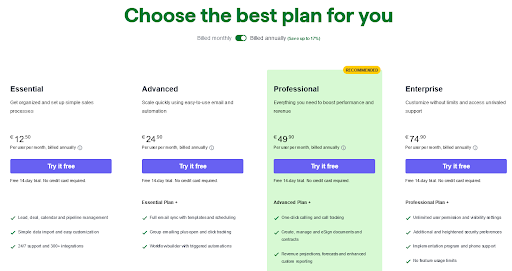 Pipedrive pricing
You can actually start using Trello entirely for free and stay at that plan if you are content with the basic features. If you feel you need an upgrade, go for a Standard plan at 5 USD or for their most expensive one, which is Enterprise at 17.50 USD.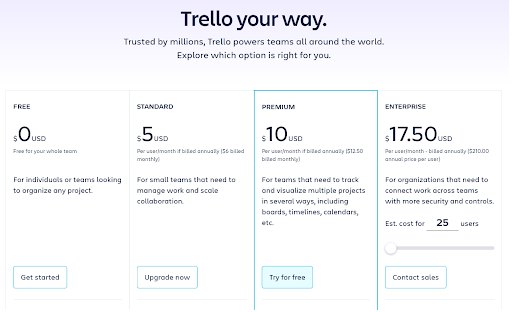 Trello pricing
Conclusion
As you can see, these software solutions serve different purposes and help teams achieve different purposes. In a way, Pipedrive and Trello can complement each other by providing the features and functions that their counterpart lacks. But, if you know your business is either sales-oriented or project-oriented, with this review in mind, you can choose the tool that would fulfill your specific needs best.
We hope that our Pipedrive vs Trello comparison would help you understand these products at a more sophisticated level and opt for the one that could truly benefit your business or your company.