How to create reports and build new dashboards in Salesforce
Salesforce
·
1/3/2023
·
3 min. read
---
Nowadays when business becomes more tech-oriented and fast-paced, data analysis plays an increasingly important role. Salesforce offers you some essential analytical tools to bring more benefits to your business.
What are Salesforce reports
Salesforce reports together with dashboards are a part of analytical tools that aims to provide you with the most relevant information about your data and make the information more user-friendly.
Salesforce report presents a list of filtered records that can be used for organizations of all types and sizes.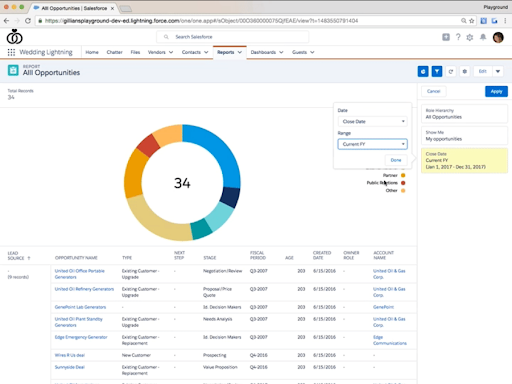 Example of Salesforce report
How to create a Salesforce report
Salesforce has visual tools that help to create and edit reports, where you can choose a type, a format, and all the necessary fields. It also has different filters and all the reports can be customized as per users' requirements.
There are two main types of reports:
Standard reports include standard objects and can not be customized.
In customized reports we can specify the object to be included.
There are four types of customized reports:
Tabular.
Summary.
Matrix.
Joined.
Tabular reports
It is the basic format, similar to Excel. It is a row of data with a grand total. It can not be used to create charts of groups of data, it is a simple list or a list with a grand total. If you need to export data it is the best type.
How to create tabular reports:
Launch the app, click the New Report button, then select the object/s you want to report on (you can use a search bar) and click Continue.
Then you need to select your filters in the "Filters" tab. If "Update Preview Automatically" is turned off, you need to refresh it to see the correct results.
Then click the "Outline" tab and choose the fields to be displayed. Remove the unnecessary fields by clicking the "X" and adding your own fields. Press Refresh if you need to see the updated information. Click "Save & Run".
Summary reports
It is a very popular report type. It gives you an option of data grouping, creating charts and viewing subtotal. When adding a grouping to an existing field we can just drag the field from columns to group rows if it is already on the layout, or you can start typing the field name in "Add group" and select it. After hitting "Save & Run" we get the new type of report.
Matrix reports
It is a summarized type of report. It allows to group data by rows and columns to see totals. You can add charts and generate dashboards with the Matrix reports. Add another grouping, this time a "Group Column" and "Group Rows" to display more information in your report. Press "Save & Run" to get a Matrix-type report.
Joined reports
This type allows the building of two separate reports to compare data. It is arranged in blocks and each block has its columns, fields, sorting, and filtering. So, it can show data from different views and from different report types.
Salesforce report features
Salesforce is constantly adding new features that help to improve analytics, adding value to the application and making it more effective. Among useful Salesforce features you can find:
Custom report types. While creating your report, you may need to go beyond auto-created or standard reports, in case you need to report on more than 2 objects at one time. For this, you can use complex reports and choose only related objects to be included.
Summary formulas. Summary formulas can handle complex calculations at all summary levels, acting like fields once formulas are created. They go across multiple records and can be used for comparing data, groupings, or calculations.
Row-Level Formulas. They are often confused with Summary formulas, but the main difference is that they are used for a single record, for example in a column-based formula that shows the result on the row.
Field to Field Filters. This option is used to compare data in different fields. All you need is to specify the fields to be included. The results will be filtered by your selected criteria.
How to schedule a Salesforce report
You can schedule receiving reports daily, once a week, or a month. Also, you can subscribe yourself or/and other users and choose what exactly should be shown in the report for each person. You will receive it via email and should have access to the folder where it will be stored.
What are dashboards in Salesforce and their components
Dashboards are visual displays that get all the information from a linked database. The main components include metrics, tables, charts, etc. Salesforce has an intuitive interface that helps you to create dashboards from Standard or Custom reports.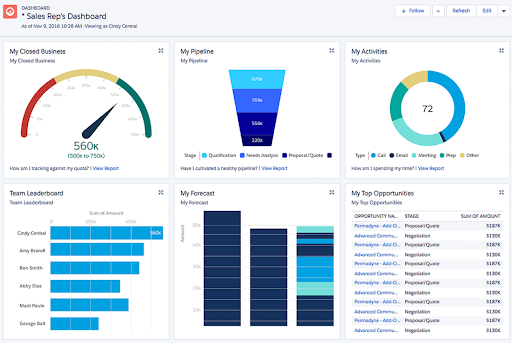 Example of Salesforce dashboard
Among the main dashboard components you can find:
Charts are used to visualize data. You can choose between different types like bar or pie, line, or column to communicate your information clearly and efficiently.
Gauges are normally used to visualize data having only a single value. They are not used for multiple rows, but can display multiple measure values.
Metrics are used when you have one main value to display. They are mostly used for tracking performance and production, for comparing and evaluating.
Tables present lists of data in columns and can be used to summarize information or explain variables.
Conclusion
Building dashboards in Salesforce can help you with many aspects. These analytical tools allow you to understand from basics like what was the income for the last week to knowing your top performers and identifying the most successful campaigns. That can be very helpful in order to develop the best strategies and promote your business.