What is Trello and how to use it: the сomplete guide
Trello
·
9/5/2022
·
null min. read
---
Trello, made by Atlassian, is one of the most popular online project management systems, which is in particular demand among small companies and startups. Its principle of operation is similar to Kanban boards: with the help of stickers, the team notes which tasks need to be performed, which are already in the works, and what is the deadline for each of them.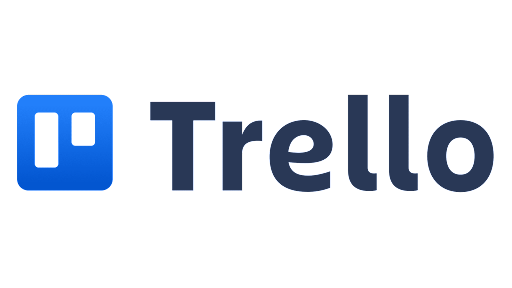 What is Trello
Trello is a platform for teamwork in the cloud. The service has two versions: desktop and mobile. In a simplified form, work in Trello is carried out according to the following scheme: users create cards with specific tasks or pieces of information and move them through three stages (here they are called lists):
To Do.
Doing.
Done.
The cards in Trello gradually move through the lists until the task is completed. At different stages, different specialists can work with the same card; this works particularly well when there are many professionals within a single project: for example, a content manager, an editor, a photographer, and a designer.
Trello architecture
Here are the three elements that form the basis of projects in Trello:
A board is a single working screen logically divided into lists. Here, users keep track of all information on the project.
Lists are vertical rows for storing cards. They can be copied, moved, archived, and added to the "Favorites" folder. Lists keep tasks or pieces of information in the context of the working stage.
Cards are the smallest units in the system. They can be moved both within the same list and between lists or boards. Cards can include an assignment for a specialist or something that should be taken into account, like a vacation schedule.
What is Trello used for
Trello allows teams and separate specialists to organize, sort, plan, and collaborate on a wide range of projects. It is convenient that users see all the steps of the workflow and can quickly assess different tasks.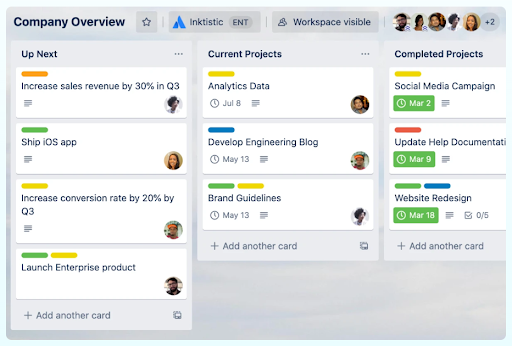 The interface of Trello for growing businesses
Trello is used for different purposes:
To-do list. Trello boards are used as daily planners. You can organize your everyday affairs into columns, such as work, family, studies, and personal, and then set deadlines and color marks that will indicate the priority of tasks.
Event management. The platform helps users schedule and distribute a wide range of events. Managers get detailed overviews of what has to be done today, this week, or this month, who is responsible for the organization of the event, and how the performers cope with their tasks and meet the deadlines.
Content plan. With Trello, you can schedule publications for a week, month, quarter, or year. Use the following columns: "Writing", "Editing", "Illustrations", "Final Edits", and "Ready to Upload". Different color labels help to indicate the type of content: article, post, video review, podcast, etc. The platform allows managers to keep the whole editorial process under control, from assigning an author to publishing a post.
Bug tracking. Trello has a board featuring columns "Urgent bugs", "Non-urgent bugs", "In progress", "Blocking bugs", "Testing", and "Fixed'. Technical support specialists can manage the tasks simply by moving the corresponding cards between the columns; employees who need information about the progress of work monitor the bug fixing process on the relevant board.
Adaptation of new employees. Beginners need to get acquainted with the working week schedule, workflows, rules, and instructions in the company. Trello helps managers to engage every staff member in doing their part.
Recruitment of personnel. Managers create cards with a detailed description of what kind of employee they are looking for. Then the HR manager moves the card to the necessary column and updates the status of the task.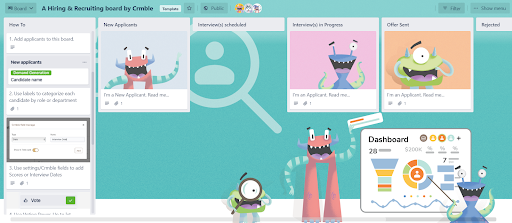 Trello template for recruitment
Benefits of Trello
Simple interface. Trello is easy to implement and navigate without a long adaptation on the part of the staff. You don't need to download any additional software; boards and cards can be created right from the browser. The system is intuitive, most users gain insight into the way it works without reading instructions.
Almost unlimited free access. The system can be used for free, without any trial period. Naturally, the functionality is a bit reduced: the number of downloaded files is limited and some integrations are not available. However, this does not prevent both small and big enterprises from using Trello for a wide range of purposes. The platform has a reliable open API — every user can customize it for almost any task.
Easy integration with other tools. The platform can be integrated with Slack, Gmail, Blue Cat, Telegram, and other services. For example, integration with MailChimp allows users to create or change the status of a subscriber in MailChimp, as soon as the card in Trello gets into a certain column.
Use Albato to connect Trello to other services and tools. In our blog, we tell readers how to set up the automation of Trello, how to collect and transfer data from Trello accounts, and more.
How to use Trello
Work in this system comes down to the creation of boards, adding lists and cards, and inviting specialists to them.
Create boards to manage projects
To create a board, take a ready-made template or customize the interface. To customize the board, click Menu in the upper-right corner of the screen. In the resulting window, you can change the description and the background of the board, customize the cards, add stickers and improvements, and deny access to the employees who are not related to the project.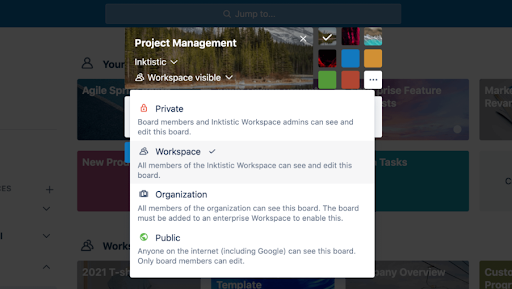 Boards in Trello can vary in visibility
Invite members to collaborate
To add a member to the team, click the Invite button or open the Participants section in the left navigation menu. Then invite the user to the workspace by entering his email or creating an invitation link. After the specialist has been added to the team, he will be notified of any changes to the card, such as new comments or movements of the card.
Add lists for better task organization
You can add any number of additional lists. They can be copied, moved, and archived. Lists do not have to be stages of work. In some projects, they divide tasks between specialists or areas of work.
Create and manage tasks
Each task in Trello is put on a separate card. You can attach links to it, put color marks, add images, leave comments, and move it from board to board. Add as many participants to the cards as necessary. When the card is moved or a comment is added, all its members are notified by email.
Trello pricing
There is a free version of the platform with up to ten boards and unlimited numbers of participants and cards. Improvements can be installed without any restrictions. The only disadvantage of the free plan is a 10 MB file upload limit per attachment. This limit refers to the files uploaded from a computer only.
Many small teams use Trello's free plan, which is quite enough for their purposes and needs.
There are also three paid tariffs.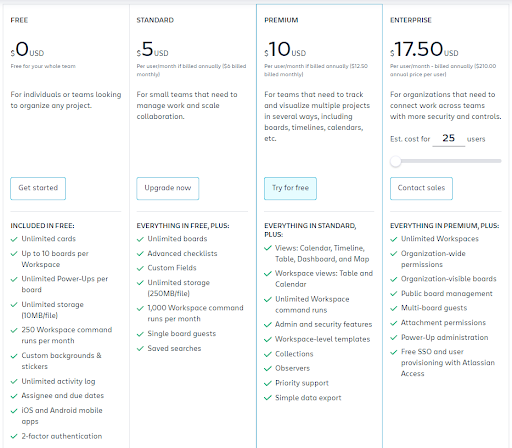 Trello tariffs and prices
Conclusion
Trello is a cloud-based project management program, which has the structure of an ordinary magnetic board with stickers. Stickers are organized in columns — lists. Each sticker is a piece of information or a task for one or several team members.
Trello is used by companies and individual users to plan things for a week or a month, schedule events, track bugs, plan content publication and promotion, search and hire personnel, and onboard new employees.
Trello features boards, lists, and cards. The board is the area of a single project. Lists group different tasks and ideas related to the same area of activity. Cards are the tasks themselves.
The main advantages of Trello are accessibility, a simple and user-friendly interface, and easy integration with other services and tools.