CRM implementation: main stages and mistakes.
When does your business need a CRM system? When you have sales and marketing departments, permanent customers flow, and intention to expand your business into a new market.
Are there any major CRM implementation mistakes? Yes, there are. Our walk-through tutorial will help you to avoid these mistakes and save your money.
CRM benefits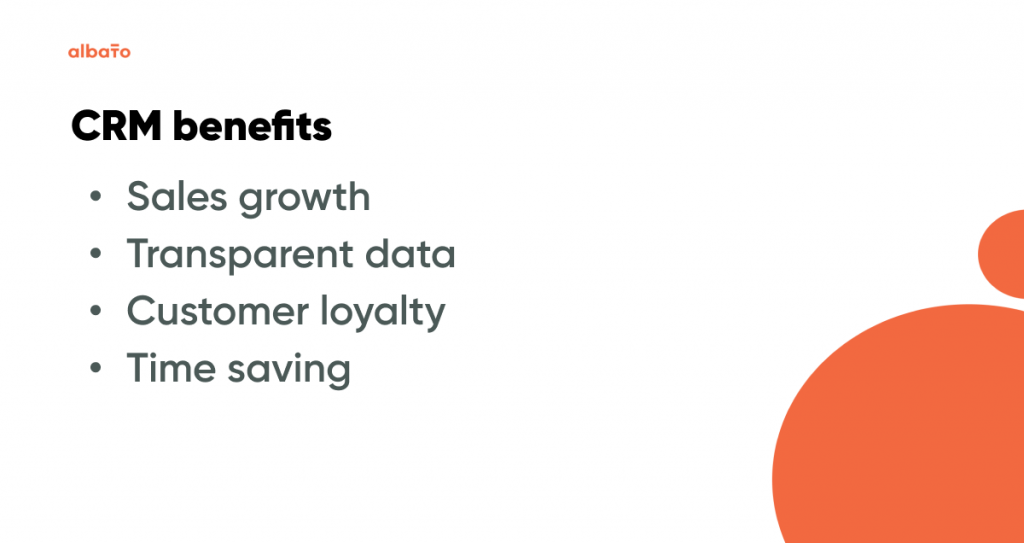 CRM implementation is the best way to improve the workflow of sales and marketing departments. It can help to:
Increase the quantity and quality of leads that are processed in the sales department.
Identify the most effective employees.
Increase interaction within the department and prevent conflicts.
Double the speed of processing and issuing reports.
Organize and save all the details for each sale and customer.
Which means that money you invest in this software product can increase revenue.
Sales growth
CRM allows you to store data about each customer in one place. You will be able to divide customers into separate groups and funnels. Example: customers who show interest to products on the website, but don't buy anything, will be added to one group – Reactivation funnel. This will help to make personal offers to customers and form a system of bonuses.
Related articles:
Sales automation tutorial: tools and stages
Transparent data
CRM is an important tool for marketers. It helps to analyze customers behavior, conversion rates and the ways of increasing sales. Using this information, you can create competitive marketing strategy.
Improving customer loyalty
CRM data on purchases and customer actions helps to:
Make personal offers that will provoke interest. Example: sending a selection of children's products to those who have a child.
Exclude from the funnels those who have not bought anything for a long time and did not respond to letters and calls.
Consider customer needs. Example: reminding car enthusiast customers that it's time to change tires and offer discounts.
Time saving
CRM reports save the manager's time and allow you to understand:
Whether the sales plan has been met
Departments results
Efficiency of each manager
All the routine tasks that managers perform, CRM does automatically. The saved time can be used by employees to process more orders or provide better customer service.
Related articles: 
What is CRM? How does it work?
How to prepare for CRM implementation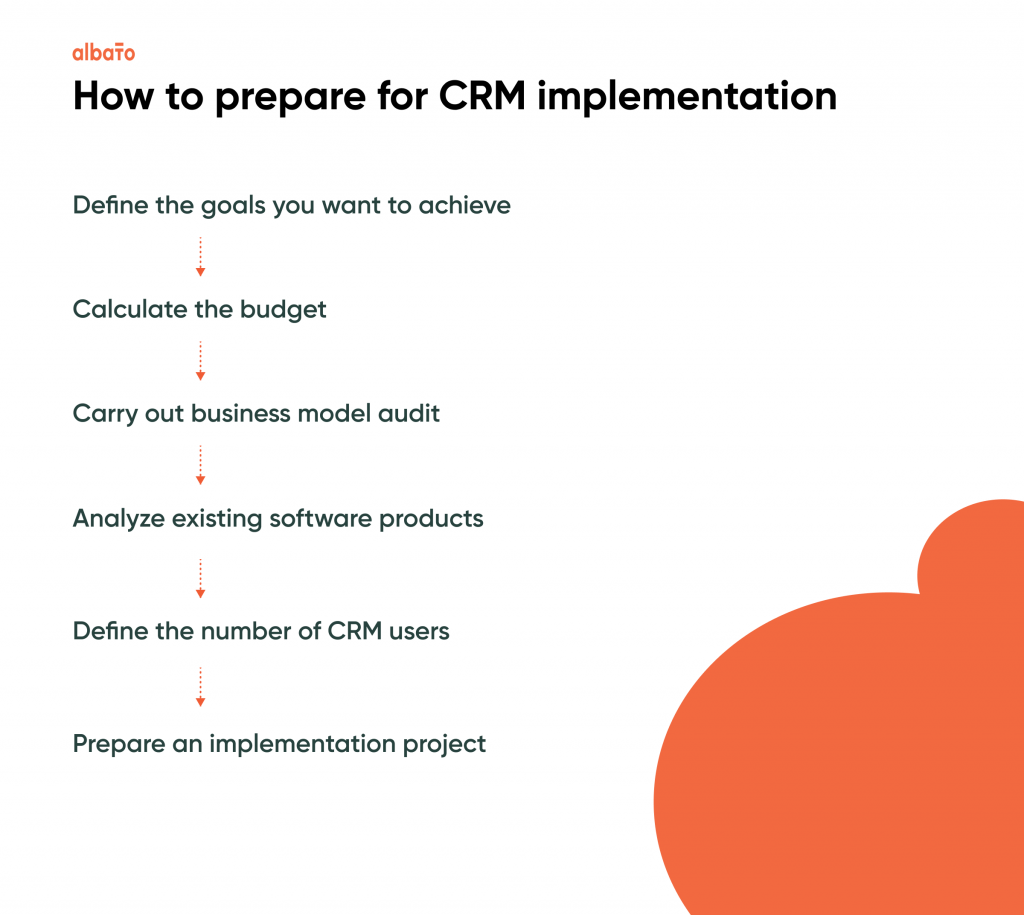 Now let's come to the point – how to benefit from CRM implementation.
Define the goals you want to achieve
CRM should not be supposed a nostrum for sales: bought, applied and sales increased by 300%. It works when you clearly understand what you need the system for. For instance:
Cut the routine tasks out
Improve analytics and create winning marketing strategy
Increase sales
Win semi-warm sales
Monitor employees' progress
Enter new market
Calculate the budget
We hasten to add that free CRM systems have less advantages due to limited functions. Quite the contrary – it may cause extra routine process, break workflow coordination in the departments and losing sales.
Browse the market offers and define the lowest and the highest prices for the systems. The pricing should include:
License or subscription.
Additional servers and programs.
Extensions, updates and plugins.
Technical support help.
Telephony and accounting system.
Cloud data storage.
Carry out business model audit
You need to get the full information on sales in your business to have a basic construction pattern for CRM implementation.
Here is what you need to clarify:
Where do clients come from?
How do managers communicate with clients and departments interact with each other?
How does a deal move through the sales funnel?
What processes do sales consist of?
The more questions – the greater will be the understanding of how to implement CRM effectively.
Analyze software already installed in the company
Review the software your company uses and find out what tasks each product performs. If the selected CRM has similar functionality, you can opt out of this software product.
Define the number of CRM users
There are three points that you need to pay attention to:
Do you have remote employees? Connect them to CRM system to avoid losing data that passes through them.
Do you have frequently out-of-office employees? You can buy a license and enlist the services of other employees while their colleagues are not at their desks.
Head managers and directors. These important users are often excluded from the count.
Prepare an implementation project
The implementation project should contain step by step description how to achieve the goals.
Implementation stages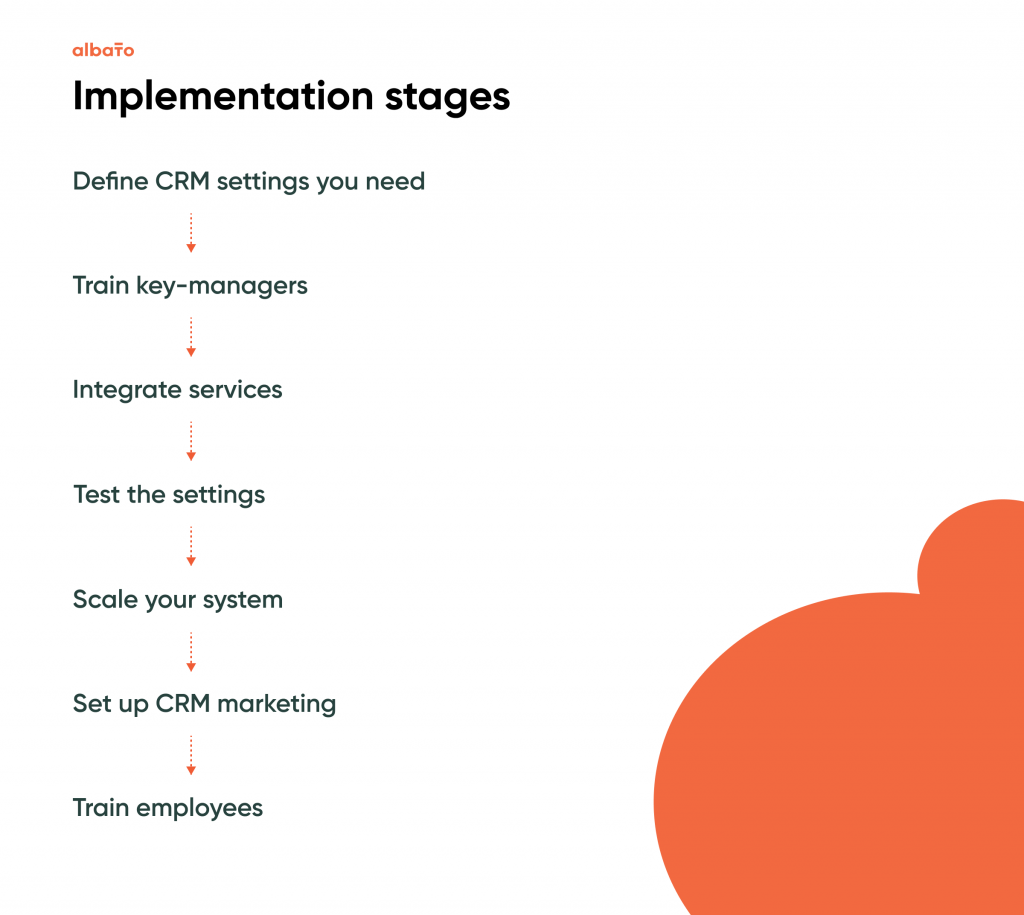 Define CRM settings you need
Integrators usually create the list and work on it:
Sales funnel settings.
Creating employees' accounts and providing access.
Connecting employees' mailboxes to the system.
Loading databases and setting up a single visual.
Customizing and adapting interface.
Teach key-managers
All CEOs, executives and senior managers should learn how to work with CRM in order to test the system, and then teach other employees to work with it.
Services integration
At this stage, the system is integrated into the website, social networks, corporate email and telephony. Such an add-on will allow managers to work faster, without spending time on switching to other tabs.
What channels can be integrated:
Website. When a client leaves a request, CRM will automatically create a client card (or transaction card) with the necessary data, so managers can quickly contact the client.
Telephony. When an incoming call arrives, the system will find the client and his card. Managers do not have to waste time looking for a client by the phone number. All calls are recorded, which is useful for head managers – to monitor how requests are processed.
Email. A corporate and personal mailbox is connected. Letter templates are created, and there is also an auto-sending at some stages of the funnel.
Accounting system. You can issue an invoice directly from the customer's card.
Networking chats.  The processing of leads from social network is simplified – you can receive messages from your business pages instantly, as well as create deals, save potential clients correspondence.
WhatsApp chat. It allows you to create text, audio, photo, video messages and chats, as well as make online calls, set text status. All media will be automatically saved.
Test the settings
At this stage, evaluate working efficiency of CRM components and the ways at which employees interact with customers.
Scale your CRM
Expand your system features stepwise: make sure that CRM has been really implemented, employees are already familiar with it and have time to learn new features.
If the CRM you have chosen doesn't have the required service, we can help you. Albato is a no-code service that allows you to integrate quickly two or more services without the help of programmers.
Set up CRM marketing
It is necessary to automate workflow that does not require employee's control: setting up mailing lists, notifications and reminders. This will free up valuable work time.
Teach employees
The quick and efficient work of your managers in CRM is the root of the quick and successful work of the entire department. Therefore, it is important to be gradual in staff training, provide regular technical support and feedback, as well as video tutorials and instructions.
CRM pricing
The total cost of the CRM implementation is made up of the software functionality and market competition creating the following points:
Cloud-based or «On premise» CRM. Cloud-based license is cheaper as it's a ready-made product. On premise CRM more expensive and means that both the software and the servers will be located at the customer. Maintenance and upgrades are usually included in the price.
Number of users. More users, higher price.
Goals. The price is formed from the functionality, rent or purchase of servers, as well as payment to programmers.
Integration. Additional costs will not be required if the company employs a full-time programmer.
Possible mistakes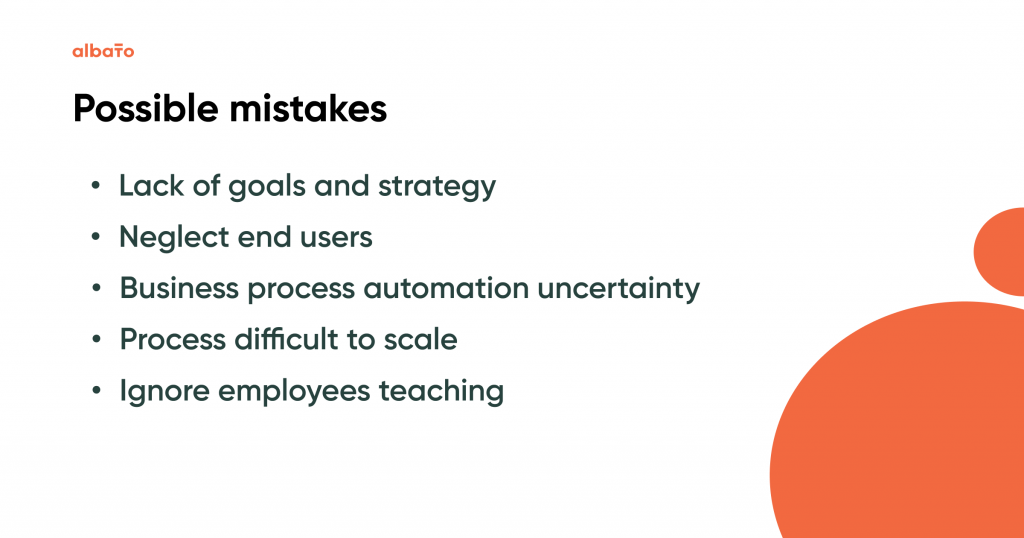 Lack of goals and strategy
It is impossible to apply an effective strategy when the goals are blurred. Clarity of purpose lies in three aspects:
Problem designation.
Understanding the value of the system.
Effective communication of all participants who are involved in the implementation.
Do not discuss implementation with employees
At the stage of discussing the implementation of CRM, it is necessary to involve future users of the system in a communication. Your employees will better understand how the product works and will be prepared for the new system.
Do not define business processes you want to implement
If you want to play your cards right, make a plan mapping out how managers interact with clients and departments interact with each other. Such scheme will help managers solve work tasks faster and more conveniently.
Choosing process difficult to scale
If CRM implementation is on the agenda and you want to budget for it, it's important to look a couple of steps ahead. This means that you need consider how you can use this software when your business expands (and this is very likely when CRM works).
Do not teach users
The key to the effectiveness of the system is also to train employees to work with CRM in an individual and planned manner.
Key take-aways
The implementation is a very individual process, because each particular business has its own identity. In this article, we have shown guidelines that you can use to implement CRM. It will help you to avoid mistakes if you are implementing system on your own or check with the proposed plan of the integrator.